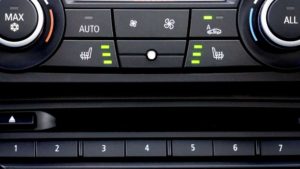 Go back a couple of decades and the only air conditioning a vehicle could hope to achieve was performed by winding down the windows! These days car air conditioning is no longer seen as a luxury – it's fitted as standard to most vehicles. Keeping your air conditioning in perfect working order is important, and we can help you to do just that here at Double Dee Autos in Bromley, and at the most cost-effective prices you'll find locally.
Car air conditioning has an important role to play all year round. In the summer, it's ideal for keeping you and your passengers cool. In the colder months it's a very good tool for demisting your windows. It's crucial that you maintain your car air conditioning in good working order all year round. Air conditioning is one of those things that you only really miss when it's not working – but sitting in a scalding hot car, or in a freezing vehicle waiting for your windows to clear is no fun for anyone, so be warned!
Book a car air conditioning service in Bromley at Double Dee Autos – best price guaranteed
At Double Dee Autos in Bromley we recommend that your car air conditioning is serviced every twenty-four months or so. That way you can be sure that it will always be there when you need it.
Our technicians will service your car air conditioning with gas and lubricant. They will also perform temperature checks to make sure everything is working just as it should. If we do find issues, then we may perform an anti-bacterial clean. Checking your air conditioning is not usually part of a standard service, so it's your responsibility to make sure it's carried out, particularly if your vehicle is over two years of age, or if you are sure that the air conditioning has not been checked for that length of time.