Car air conditioning – breathe easy with car air conditioning

services in Bromley
Go back a couple of decades and the only air conditioning a vehicle could hope to achieve was performed by winding down the windows! These days car air conditioning is no longer seen as a luxury – it's fitted as standard to most vehicles. Keeping your air conditioning in perfect working order is important, and we can help you to do just that here at Double Dee Autos in Bromley, and at the most cost-effective prices you'll find locally.
Car air conditioning has an important role to play all year round. In the summer, it's ideal for keeping you and your passengers cool. In the colder months it's a very good tool for demisting your windows. It's crucial that you maintain your car air conditioning in good working order all year round. Air conditioning is one of those things that you only really miss when it's not working – but sitting in a scalding hot car, or in a freezing vehicle waiting for your windows to clear is no fun for anyone, so be warned!
Air conditioning that is not effectively maintained, sanitised and used regularly will result in the build up of algae. If your air conditioning remains dormant throughout the winter months, when you turn it on to use it in the summer, the algae will be present in the air that is circulated, which is bad for the health of everyone in the car.
Book a car air conditioning service in Bromley
at Double Dee Autos – best price guaranteed
At Double Dee Autos in Bromley we recommend that your car air conditioning is serviced every twenty-four months or so. That way you can be sure that it will always be there when you need it.
Our technicians will service your car air conditioning with gas and lubricant. They will also perform temperature checks to make sure everything is working just as it should. If we do find issues, then we may perform an anti-bacterial clean. Checking your air conditioning is not usually part of a standard service, so it's your responsibility to make sure it's carried out, particularly if your vehicle is over two years of age, or if you are sure that the air conditioning has not been checked for that length of time.
For more information about why it is important to get your air conditioning serviced, read our blog.
NEED YOUR CAR AIR CONDITIONING RE-GASSED?
We can do this for you in no time at all! We're based at 27 Hayes Lane, Bromley, Kent, BR2 9EA and open Monday to Friday from 8am to 5.30pm and Saturday from 9am to 12pm or get in touch for more information.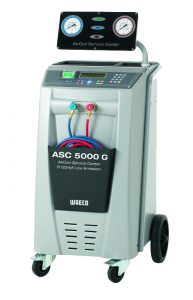 R1234yf – Environmentally conscious refrigerant for vehicular air conditioning
Now offering next generation car air conditioning services for cars built in 2013 and onwards using a new type gas which is ozone friendly, called R1234yf.
Other than the main dealerships, Double Dee Autos are the only garage in the area to offer this product at the price of £148 + VAT.
Need a car air conditioning recharge in Bromley? Then contact Double Dee Autos
The air is conditioned via your air conditioning by a special gas mixture. Over time, the gas will escape from your air conditioning system, which means that your system will work with less efficiency. Imagine a fridge with leaky pipes – after two years you'll notice that your fridge is now acting simply as a cupboard!
The same principle applies to your car air conditioning. The less gas the system has, the harder it is for the system to keep the internal atmosphere of your car cool. The solution to this issue is to increase the amount of gas that's present in your system – this is known as a car air conditioning recharge. The recharge service that we provide will restore the amount of gas in your system back the levels that were present when your car air conditioning system was first installed.
To seal the deal when it comes to your car air conditioning in Bromley, then call Double Dee Autos on 020 8460 3040. You can also contact us via email at [email protected].